THE ABSTRACT SPACE
Anna-Maria Bogner / Julia Brennacher / Simona Obholzer

25. Januar – 2. Februar 2018 / January 25 – February 2, 2018
openspace.Innsbruck, Innsbruck (AT)
Ausgehend von El Lissitzkys für die Moderne wegweisender Konzeption des Prounenraums (1923) untersucht die Ausstellung THE ABSTRACT SPACE zeitgenössische künstlerische Bild- und Raumstrategien. Mit dem Prounenraum verwirklichte Lissitzky die Idee eines abstrakten Raums, indem er Malerei mit geometrischen Objekten kombinierte und so eine Loslösung vom Zweidimensionalen hin zu einer Erweiterung in den dreidimensionalen Realraum verfolgte. Lissitzkys radikale Raumverhandlung war ein Projekt der konstruktivistischen Abstraktion, das mit den gesellschaftlichen, politischen und künstlerischen Umbrüchen seiner Zeit verbunden war. Die Ausstellung THE ABSTRACT SPACE greift das Konzept des abstrakten Raums auf und befragt ihn aus gegenwärtiger Perspektive.
Anna-Maria Bogner, Julia Brennacher und Simona Obholzer entwickeln in den Medien Installation, Malerei und Video ein installatives Ensemble, das Einblick in die spezifischen Arbeitsweisen der Künstlerinnen gibt und Werke präsentiert, in denen gesellschaftliche, künstlerische, mediale sowie perzeptuelle Fragestellungen und Rahmenbedingungen reflektiert werden. Unter Einsatz einer reduktiven Bildsprache widmen sich die in der Ausstellung vertretenen Arbeiten auf je unterschiedliche Weise dem Verhältnis von Fläche und Raum, setzen sich mit den Mechanismen unserer Wahrnehmung auseinander und beziehen die Betrachter/innen unmittelbar in die Werkkonzeption mit ein.
Starting out from El Lissitzky's seminal modernist conception of the Proun Room (1923), the exhibition THE ABSTRACT SPACE examines contemporary visual and spatial artistic strategies. In his Proun Room, Lissitzky realised the idea of an abstract space by combining painting with geometric objects and so pursuing a disengagement from the two-dimensional towards its extension into three-dimensional, real space. Whereas Lissitzky's radical renegotiation of space may be understood as a project of constructivist abstraction, linked to his era's radical social, political and artistic changes, the exhibition THE ABSTRACT SPACE takes up the concept of the abstract space and questions it from a contemporary perspective.
Using the media of installation, painting and video, Anna-Maria Bogner, Julia Brennacher and Simona Obholzer develop an installative ensemble providing insights into the artists' specific working methods and present works, which reflect on key issues and framework conditions of society, art, media and perception. Employing a reductive pictorial language, the works represented in the exhibition are devoted, each in their different ways, to the interrelations of flat space and the three-dimensional, engaging with the mechanisms of our perception and directly involving the viewers in the work concept.
Zur Ausstellung erscheint ein Katalog (dt./engl.). / A catalogue will be published on the occasion of the exhibition (Germ./Engl.)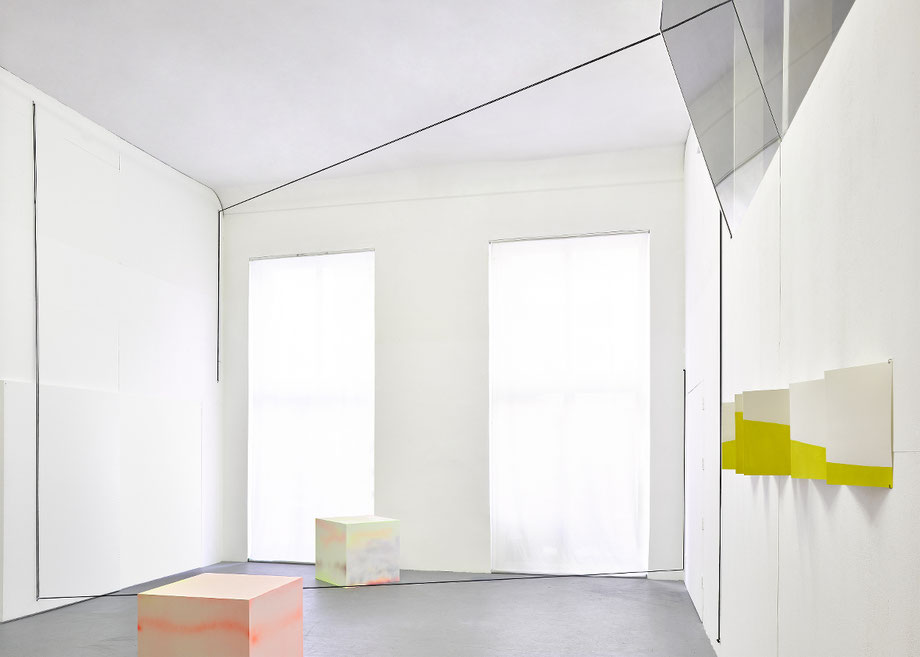 Ausstellungsansicht / Exhibition view THE ABSTRACT SPACE – Anna-Maria Bogner, Julia Brennacher, Simona Obholzer, styleconception.openspace, Innsbruck, 2018.
Foto / Photo: WEST. Fotostudio

---
MAPPING THE BODY
Der Körper in der heutigen Lebenswelt / The Body in Contemporary Life
 11. Juni – 28. August 2016 /  June 11 – 28 August, 2016
 Taxispalais Kunsthalle Tirol, Innsbruck
Künstler/innen / Artists: Laia Abril, Selma Alaçam, Natalie Bookchin, Daniele Buetti, Cassils, Mariechen Danz, Michael Fliri, Regina José Galindo, Patrycja German, Floris Kaayk, Jakob Lena Knebl, Eva Kot'átková, Ulrike Lienbacher, Molly Lowe, Lu Yang, Anahita Razmi, Rico Scagliola & Michael Meier, Ryoko Suzuki
Die internationale Gruppenausstellung MAPPING THE BODY untersucht die weitreichende Transformation und Beeinflussung des menschlichen Körpers in der gegenwärtigen Lebenswelt. In einer Zeit, in der die ökonomische und mediale Vereinnahmung immer weiter zunimmt, der technologische Fortschritt die Überwindung von Körpergrenzen verspricht und es zu verstärkten Konfrontationen politisch und kulturell unterschiedlicher Vorstellungen von Sexualität und Gender kommt, erweist sich der Körper als Schauplatz, an dem Konflikte ausgetragen werden und sich die Suche nach Identitäten neu formiert. Die Ausstellung widmet sich Künstlerinnen und Künstlern, die aus unterschiedlichen kulturellen und medialen Blickwinkeln aktuelle Felder der Körperpolitik kritisch hinterfragen. In recherchebasierten und partizipativen, aber auch erzählerischen, fiktionalen und metaphorischen Arbeiten reflektieren sie den Einfluss von Ökonomie und Gesellschaft auf Körper, Geschlecht und Sexualität, die Verwandlung des Körperbewusstseins durch Technologie und Internet, die Bedeutung innerer und äußerer Zwänge, die sich am Körper manifestieren, wie auch die Auflösung von Körpergrenzen und eindeutigen Identitäten.
Kurator/innen / Curators: Julia Brennacher, Jürgen Tabor, Lena Nievers
The international group exhibition MAPPING THE BODY investigates the far-reaching transformation and manipulation of the human body in contemporary life. In a time of constantly increasing economic and media monopolization, technological progress that promises to transcend physical boundaries, and more and more confrontation between politically and culturally differing notions of sexuality and gender, the body has become a place where conflicts are realized, and the search for identities is reconstituted. The exhibition is devoted to artists who critically question current fields of body politics from various cultural and media perspectives. In research-based, participatory, as well as narrative, fictional and metaphorical works, they reflect upon the influence of the economy and society on the body, gender and sexuality, upon the transformation of body awareness through technology and the internet, the significance of inner and outer constraints as manifest in the body, and also upon the dissolution of corporeal boundaries and clear-cut identities.
Katalog / Catalogue
MAPPING THE BODY. Der Körper in der heutigen Lebenswelt / The Body in Contemporary Life
Hrsg. / Eds. Galerie im Taxispalais, Julia Brennacher, Jürgen Tabor, Lena Nievers. Mit Texten (dt./engl.) von / With texts (Germ. / Engl.) by Julia Brennacher, Verena Gstir, Lena Nievers, Christina Nägele, Sabine Maria Schmidt und / and Jürgen Tabor, 160 Seiten / 160 pages, zahlreiche Farbabbildungen / numerous colour illustrations, Verlag für moderne Kunst, Wien / Vienna 2016.
---
WELTEN IM WIDERSPRUCH - ZONEN DER GLOBALISIERUNG
/ WORLDS IN CONTRADICTION - AREAS OF GLOBALISATION
23. Mai – 2. August 2015 / May 23 - August 2, 2015
Taxispalais Kunsthalle Tirol, Innsbruck
Künstler/innen / Artists: Michael Blum, Christian von Borries, Bureau d'études, Cristina Garrido, Andreas Gursky, Kasmalieva & Djumaliev, Rosmarie Lukasser, Eva und Franco Mattes, Nyaba Léon Ouedraogo, Oliver Ressler, Allan Sekula und Noël Burch, Gabriele Sturm, Thomson & Craighead, Gruppo Tökmag, Wang Qingsong, Yin Xiuzhen
Die Vernetzung der Welt durch zunehmende Reise- und Migrationsbewegungen und immer komplexere Ströme von Waren und Daten, Rohstoffen und Kapital hat die Lebenswirklichkeit in verschiedensten Regionen der Welt auf höchst ambivalente Weise verändert. Mit den sich wandelnden Globalisierungsprozessen entstehen immer neue Fragestellungen, Erfahrungen, Bilder und Formensprachen des Globalen, die sich in der persönlichen wie der gesellschaftlichen Lebensrealität manifestieren. Die internationale Gruppenausstellung Welten im Widerspruch – Zonen der Globalisierung zeigt Werke von 16 Künstlerinnen und Künstlern aus Europa, Asien, Amerika und Afrika, die in verschiedenen Themenfeldern den Zusammenhängen von Globalem und Lokalem nachspüren. In recherchebasierten, dokumentarischen, aber auch erzählerischen, poetischen und aufrüttelnden Arbeiten reflektieren sie Aspekte der Mobilität, die ambivalente Verkettung von Produktion, Transport und Konsum, das Wesen globaler Informations- und Wissensnetze oder die Auswirkungen der globalen Ökonomie auf Arbeit und Umwelt.
Kurator/innen / Curators: Jürgen Tabor, Julia Brennacher
Global interconnectedness due to the growing movements of travel and migration, and to increasingly complex flows of goods and data, raw materials and capital has made often ambivalent changes to the reality of life in various regions of the world. The developing processes of globalisation are leading to ever new questions, experiences, images and formal languages of globality, which are manifest in the personal and social reality of life. The international group exhibition Worlds in Contradiction – Areas of Globalisation presents works by 16 artists from Europe, Asia, America and Africa who investigate global and local contexts within diverse thematic fields. In research-based and documentary, but also narrative, poetic and thought-provoking works they reflect on aspects of mobility, the ambivalent links between production, transport and consumerism, the essence of global information and knowledge networks, or the effects of the global economy on work and our environment.
Katalog / Catalogue
Welten im Widerspruch – Zonen der Globalisierung / Worlds in Contradiction – Areas of Globalisation
Mit Texten (dt./engl.) von  / With Texts (Germ. / Engl.) by Roland Benedikter und / and Katja Siepmann, Julia Brennacher, Beate Ermacora, Christina Nägele, Markus Neuwirth, Lena Nievers, Sabine Maria Schmidt und / and Jürgen Tabor, 176 Seiten / 176 pages, zahlreiche Farbabbildungen / numerous colour illustrations, Verlag für moderne Kunst, Wien / Vienna 2015.
---
IMMER BUNTER - Aktuelle Malerei aus Österreich
/ INCREASINGLY COLOURFUL - Current Painting from Austria
8. September – 18. November 2012 / September 8 - November 18, 2012
Taxispalais Kunsthalle Tirol, Innsbruck
Künstler/innen / Artists: Markus Bacher, Christian Falsnaes, Manuel Gorkiewicz, Herbert Hinteregger, Luisa Kasalicky, Katrin Plavcak, Alfons Pressnitz, Martina Steckholzer, Marianne Vlaschits, Maja Vukoje, Herwig Weiser
Die Ausstellung untersucht anhand avancierter künstlerischer Positionen den gegenwärtigen Malereidiskurs in Österreich. Sie reflektiert dabei die Themen- und Spannungsfelder, die die Künstlerinnen und Künstler in ihrer Ausei-nandersetzung mit dem Medium Malerei beschäftigen.
Aktuell ist die Malerei, wie sie sich in der österreichischen Kunstszene darstellt, ein überaus dynamisches Feld, das sich in divergierende Richtungen entwickelt. Die breite Vielfalt an Zugangsweisen lässt sich jedoch nicht auf eine bloße Pluralisierung zurückführen, vielmehr ist den unterschiedlichen Schwerpunktsetzungen vieler Positionen gemeinsam, dass sie sich immer auch aus einer Befragung des Mediums heraus entwickeln. Die klassischen Konfliktlinien der Malerei wie abstrakt versus narrativ, prozessual versus konstruktiv, optisch versus haptisch werden dabei nicht neu ausgefochten, sondern spielerisch verarbeitet und oft vermischt. Über die Bewältigung der medieneigenen Geschichte hinaus spielt im aktuellen Diskurs der Malerei eine Vielzahl anderer, zum Teil neuer Fragen eine Rolle. Während die Besinnung auf die Grundbedingungen des Mediums bei den historischen Avantgarden oft zu einer Reduktion der Mittel führte, scheint sie heute eine Öffnung der Malerei zu bewirken; eine Öffnung hin zu anderen Medien und für eine Auseinandersetzung mit den Bildern der Gesellschaft und Alltagskultur, mit deren Rolle und Sprache.
Die erweiterte Integration neuer Inhalte und Aspekte in die Malerei verläuft dabei entlang bestimmter Marksteine, die sich auch in der Zusammenstellung der Ausstellung widerspiegeln: Sie zeigt konzeptuelle Ansätze, die das Feld der Malerei historisch, medial und sozial reflektieren und erweitern. Sie umfasst Werke, die sich in den begehbaren, dreidimensional erfahrbaren Raum ausdehnen und ungewohnte Materialien und Techniken in Anspruch nehmen. Sie zeigt Positionen, die aktuelle thematische Kontexte aufgreifen, und präsentiert Zugangsweisen, die Malerei und Performance verbinden.
This exhibition investigates current painting discourse within Austria by showcasing prominent and pioneering artistic positions, with an eye to reflecting the themes and controversies that the artists are addressing through the medium of painting.
Painting is currently an extremely dynamic field in the Austrian art scene, and is being taken in a number of different directions. It is not simply a matter of a plurality of approaches, however. In spite of their differing priorities, many of these different attitudes have one thing in common: they have all grown out of a questioning of the medium. Painting's classic conflicts - abstract versus narrative, processual versus constructive, optical versus haptic - are not being fought anew; they are being treated playfully, and, in many cases, are being mixed together. Aside from reworking the history of the medium, there are a number of other issues, some of them entirely new, that play a role in current painting discourse. Historic avant-gardes have so often tried to rediscover the basic parameters of the medium by reducing their tools and techniques, but today it appears to be being achieved through an opening-up of the painting genre to other media and by engaging with images from society and mainstream culture, with their roles and with their language.
 The exhibition is structured around the milestones in this integration of new content into – and the adding of new facets to - painting, featuring conceptual approaches that use history, media and society as avenues for reflecting on the field of painting and for expanding its scope, artworks that expand into three-dimensional space and can be navigated, and artworks that utilise unusual materials and techniques. It showcases approaches to painting that respond to current issues, and presents methodologies that unite painting with performance.
Kurator/innen / Curators: Julia Brennacher, Lotte Dinse, Beate Ermacora, Jürgen Tabor
Katalog / Catalogue
IMMER BUNTER - Aktuelle Malerei aus Österreich / INCREASINGLY COLOURFUL - Current Painting from Austria
Hrsg. / Eds. Beate Ermacora, Julia Brennacher, Lotte Dinse, Jürgen Tabor. Mit Texten (dt. / engl.) von / With texts (Germ. / Engl.) by Julia Brennacher, Christoph Bruckner, Lotte Dinse, Beate Ermacora, Oona Lochner, Christina Nägele, Gunter Reski und / and Jürgen Tabor, 136 Seiten / 136 pages, zahlreiche Farbabbildungen
/ numerous colour illustrations, Kerber Verlag, Bielefeld/Berlin 2012.